Paving Ideas for Patios, Paths and Driveways
Whether an aesthetically pleasing garden patio, a durable driveway, or a practical pathway to your front door, there are a myriad of choices when it comes to paving. Here are a variety of paving ideas to inspire your patio, path or driveway project!
From natural stone and concrete patio slabs, to decorative paving circles, with block paving, wood-effect paving stones and other alternatives in between – the possibilities are endless. At AWBS we offer a comprehensive selection of driveway and patio paving ideas, so you can create the outside area that's perfect for your needs.
Concrete Paving Slabs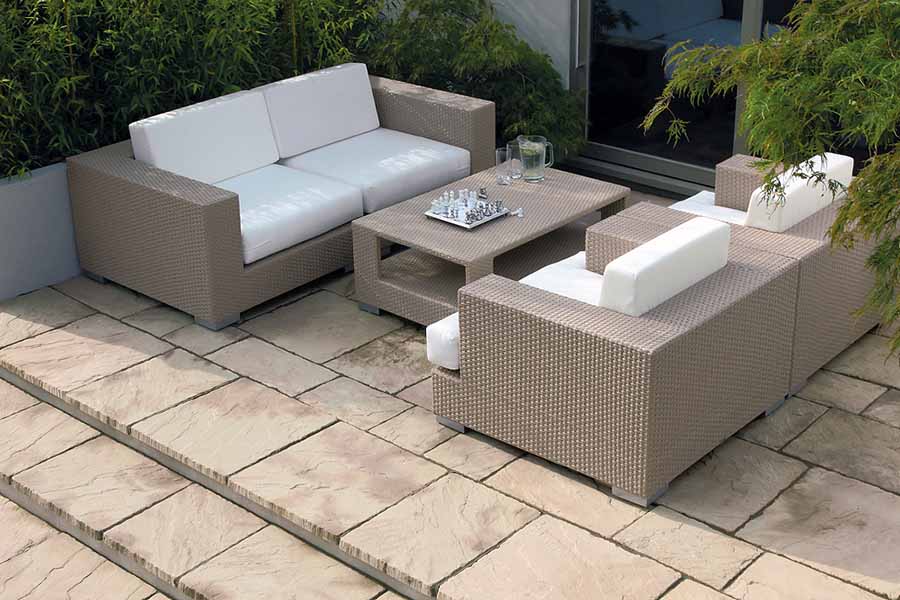 This manufactured concrete paving is perfectly suited to all patio and path projects, and gives continuity in terms of colours and finishes. We have an extensive range of concrete paving, to suit all tastes and budgets. For a cost-effective solution, the Bradstone Peak Riven is a highly practical utility paving, available in three shades, with a special rate of 10% off full packs. If you're looking for paving stones with wonderful character, the Stonemarket Millstone range of reproduced antique stones is an excellent choice. Combining rich, varied textures, subtle colours and exquisite detailing, these paving stones offer an authentic worn look, with exceptional quality.
Wood Effect Paving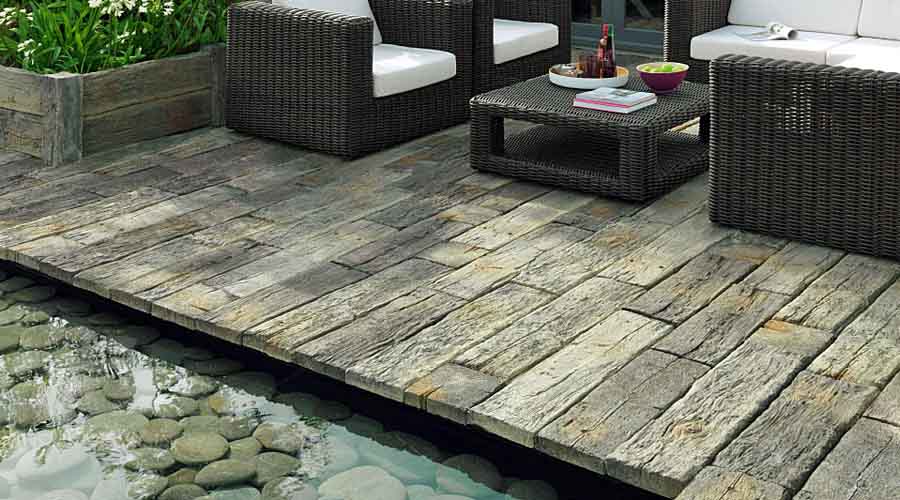 For the highly sought-after appearance of weathered timber, the Stonemarket Timberstone wood-effect concrete paving is a highly attractive option. With stunning detailing and a choice of Driftwood or Coppice Brown finishes, these wood-effect concrete sleepers are hard to distinguish from real timber, while offering the high strength and durability of concrete paving.
Natural Stone Paving and Flagstones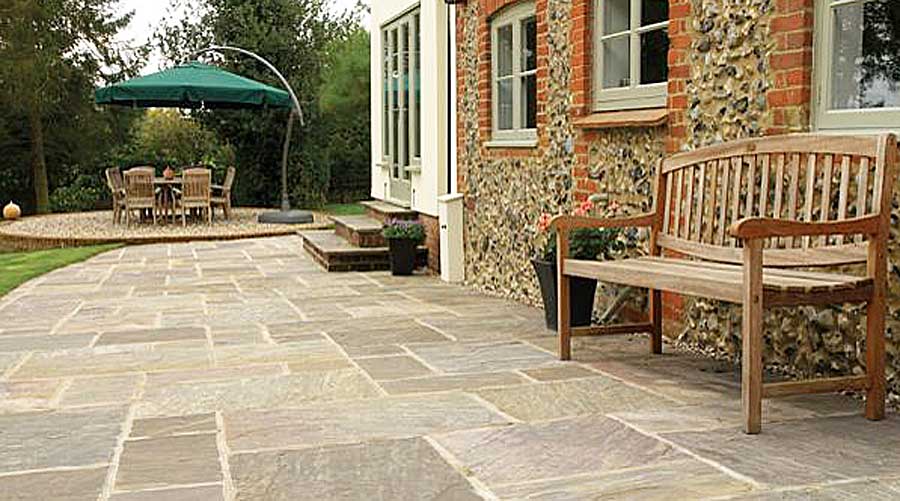 As one of the biggest natural stone stockists in the Oxford and Swindon areas, our expansive collection of natural stone paving and flagstones is made up of ethically sourced sandstone, limestone, granite and slate. We offer paving stones from high-quality brands Stonemarket, Bradstone and Pavestone, alongside our AWBS Exclusive range of patio paving – all of which are carefully selected for colour, texture and charm.
For contemporary garden projects, the Digby Opulence is a fabulous textured sandstone patio slab, with straight, crisp lines. The banding and veining adds further charm to the natural beauty, for a chic and sophisticated patio area. The Stonemarket Vintage limestone paving has the delightful creamy, grey colouring that's unique to old worn limestone, and blends beautifully within its surroundings. Our hand-selected natural slate paving is a splendid choice for an outside area, from the beautiful dark midnight slate paving from Pavestone (which can also be used inside) to the gorgeous rustic bronze shades of the Stonemarket Truslate Copper slate.
Block Paving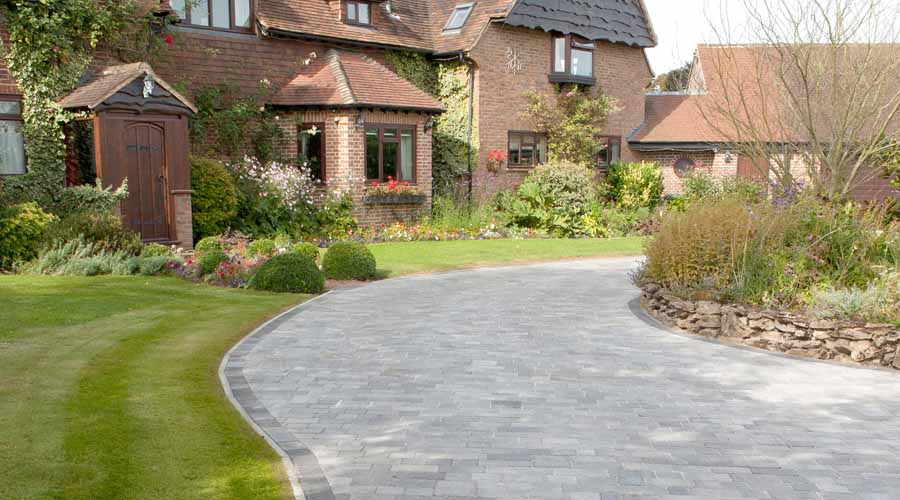 A widely popular, attractive and durable solution for driveway paving, we have a vast range of block paving, from leading brands, including Stonemarket, Brett and Pavestone. With a host of styles and colours to choose from – whether you're looking for traditional or modern – we have paving stones for every driveway paving project.
For a low maintenance paving idea with high style and affordability, the Brett Omega range offers simple, modern lines, which work perfectly on large driveways and small paved areas alike. For a time-aged appearance, random cobble and mixed pavers add sophistication and interest to any type of property. The AWBS Exclusive Range includes our Tumbled 50mm Block Paving, available in five delightful shades and three sizes, for a lovely, intriguing pattern for your driveway paving.
Paving Circles, Paving Edging and Kerb Stones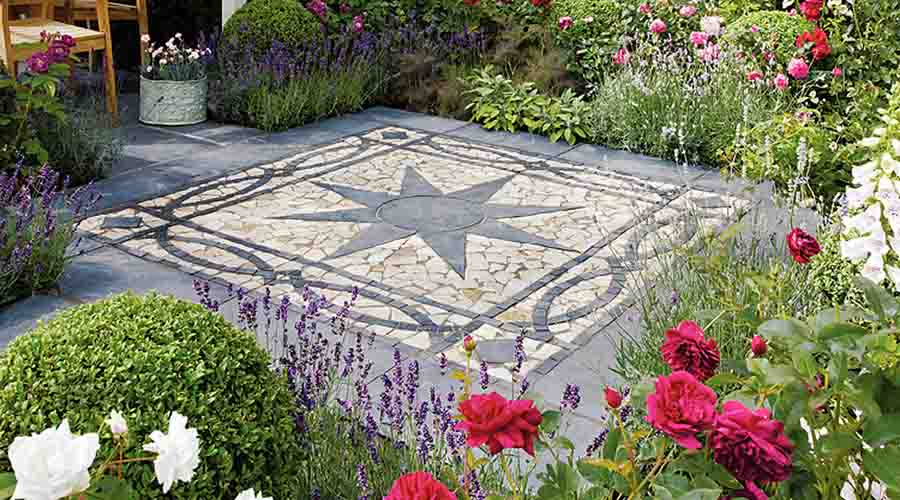 Decorative paving circles bring an instant wow factor to the outside are of your home. Whether you want a contemporary or more traditional look, we have an extensive selection of decorative paving circles to suit any style of property, in a range of colours and designs. The Pavestone range of natural slate circles present a truly magnificent addition to an outside area. In lovely Midnight and Rusty colours, these perfectly complement the Pavestone slate patio slabs. Our AWBS Exclusive collection of paving circles are made from the finest Indian sandstone and work fantastically as a stand-alone feature or a striking centrepiece to any patio area or paving project.
Our wonderful unique paving features add a truly stunning touch. These elegant decorative paving ideas include the Stonemarket Truslate Star and Vintage Manor Compass designs.
We also offer a range of natural stone setts, which are ideal for pathways, cobbled driveways or paving edging for a patio. Available in a selection of effects, colours and sizes, these are a fabulous way to add interest and contrast to any patio, paving circle or driveway paving. And to create a boundary and keep a clean edge to your driveway, kerbs add a great appeal to the outside of your home.
Gravel and Decking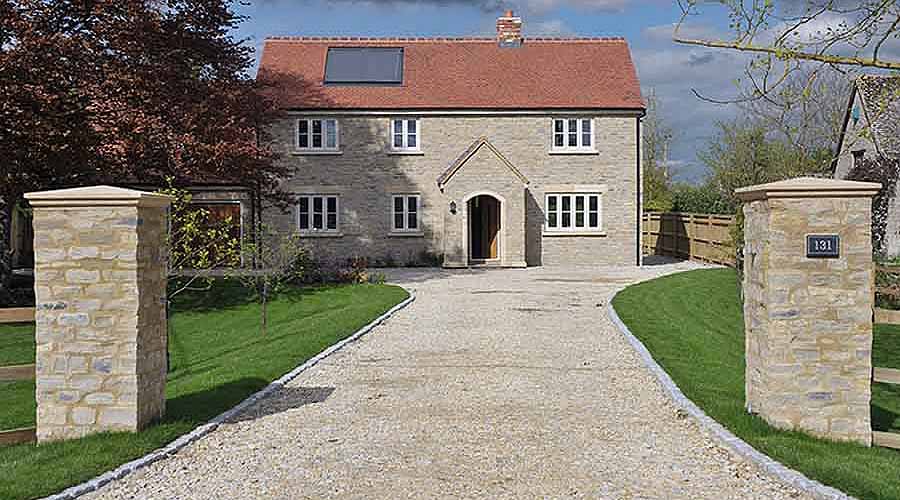 As a popular choice instead of paving, decorative gravel is a great way to freshen up your driveway. Our range of decorative stone includes cobbles, chippings, flints, shingles and slates – and we offer five small bags for the price of four, as well as free delivery to local areas! For an alternative to a patio, decking makes an attractive addition to any garden. Our range covers everything you need to create an outside entertaining area, from decking boards and joists to spindles and handrails.
For paving ideas, advice and to find out more about our full range of paving slabs, kerb stones, decorative gravel and timber decking, please contact us or visit your local AWBS branch at Oxford, Yarnton or Swindon to see a wide variety of paving displays