Natural sandstone paving from AWBS
With stunning variations of natural tones and textures, sandstone is a popular choice for patios and paving, offering a hardwearing and cost-effective solution, with a lovely rustic feel.
Sandstone forms when grains of sand are compacted together over significant periods of time. While not as hard as granite, sandstone is readily available, highly durable, and easy to cut and work with, which is why it's been used in construction for centuries.
AWBS Exclusive sandstone paving
At AWBS we have a wide selection of natural sandstone paving in our own Exclusive range and offer products from major paving brands such as Stonemarket, Bradstone and Pavestone. Both offer stunning colours and finishes, from red, grey, yellow and brown, to mixed colours in honed and riven finishes. And the lighter yellow and beige varieties offer a perfect alternative to Yorkstone.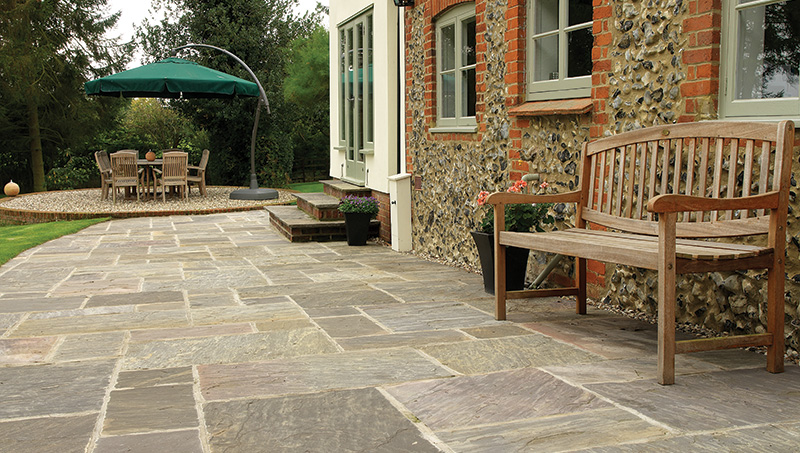 Our Exclusive range provides high-quality natural building and landscaping products, like Indian sandstone paving, at exceptionally competitive prices. As with all our materials, the natural sandstone paving we supply is sourced from ethical and environmentally friendly sources, such as Pavestone, who are part of the Ethical Trading Initiative, which aims to improve and maintain working standards the quarrying and export of natural sandstone from India.
Things to consider when choosing sandstone paving
Like a lot of natural stone paving, sandstone is porous and will absorb moisture, which means it can stain if the surface isn't sealed and can be susceptible to frost. However, this can be avoided if the paving is laid on solid mortar, not mortar pads, and pointed correctly using Geo-fix, to prevent water ingress from the edges. The texture of the natural sandstone paving also means it can be slippery when wet, but most of the sandstone paving we supply has a riven finish, which provides grip as well as complementing the warm rustic appearance of this beautiful stone.
At AWBS, we aim to always deliver products manufactured to the highest possible standards, and our natural sandstone paving is no exception. Please contact us for information about our range of Indian sandstone paving products.