Artificial Turf Made Our Garden Safe & Child Friendly
This is what AWBS customer, Kellie Watkins, said after choosing to replace the lawn in her family garden with artificial turf, this spring. Here she tells us why she and her husband made the decision, and the massive difference it has made to their lives already.
When we bought our house a few years ago, it needed an awful lot of work doing – part of which was a complete overhaul of the garden. We had a play area dug out and filled with play bark, a new patio, new fencing and a new lawn (all of which we got from AWBS). At the time, I really wanted to get artificial turf, as I'd seen it at a couple of friends houses and read about it on the AWBS website. But my husband was adamant that he wanted a real grass lawn to mow, thought the cost of fake grass would be too high and it wouldn't look real. So, turf we got.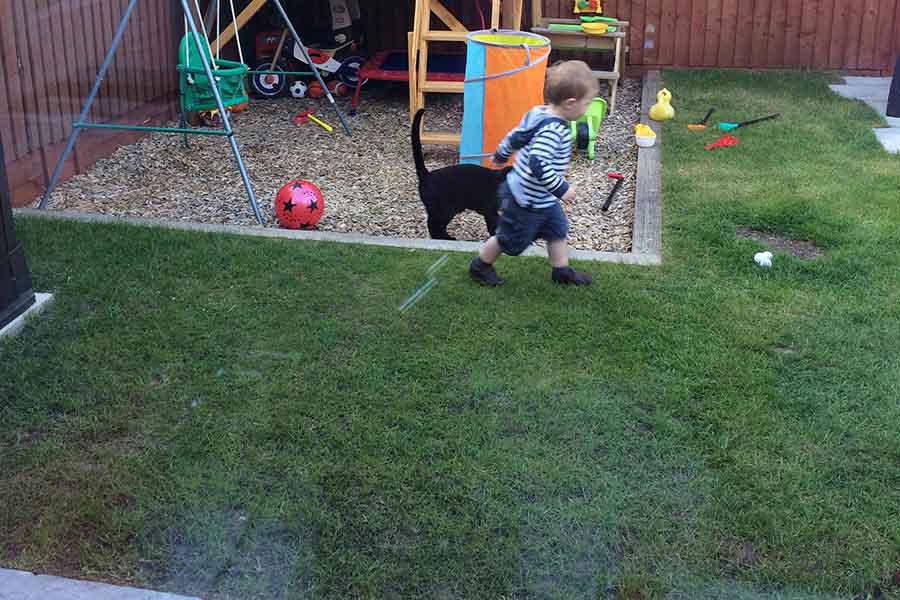 "Our lovely new lawn, which quickly turned to mud with our son and pets playing in on it" - Kellie Watkins
Fast forward a couple of years… add a three-year-old boy, four cats and an exceptionally rainy England to the equation and, finally, my husband agreed fake turf was a good idea!
Artificial grass is perfect for anyone with pets
One of the biggest things for me was how the weather took its toll on the garden. It was just a complete mud bath for a large part of the year, looked awful and was totally unusable – as much as our son wanted to go out and play, he just couldn't. And with four cats coming and going, you can imagine the effect 16 muddy paw prints had on the house – I was constantly mopping the kitchen floor and wiping the sides down. Having the cats played a huge part in our decision. After acquiring two kittens last summer, some had also taken to using the turf as a toilet, which no matter how meticulous you are about cleaning up, doesn't make a safe environment for a child to play. I knew that with fake grass you could simply hose, brush it off and disinfect, and many friends had chosen artificial grass for dogs and other pets.
Choosing the right fake turf with help from AWBS
We decided to have our garden done in April this year. We didn't feel the need to speak to any other artificial grass suppliers as we'd used AWBS for our previous garden and driveway projects. We spoke to the helpful staff at the AWBS Swindon branch and got excellent advice on the grass that would suit us best for our needs, as well as the other products required, such as a suitable weed membrane and artificial turf jointing tape. We knew we could easily have laid it ourselves, as I'd read AWBS's guide on how to lay artificial grass but, with our son's birthday party coming up and us both working, we simply didn't have the time.
Laying artificial turf
Removing the old turf ready to lay the base for our artificial grass was a relatively simple job, and it didn't take long… from start to finish our garden was transformed in four days, with minimal disruption and mess. It was finished the day before we were welcoming 16 children to our house for our son's party and it was pouring with rain. But that didn't matter; we set everything up and still had the party in the garden as we didn't have to worry about wet and mud – something that would have never been possible without the artificial turf.
Artificial turf completely transformed our garden!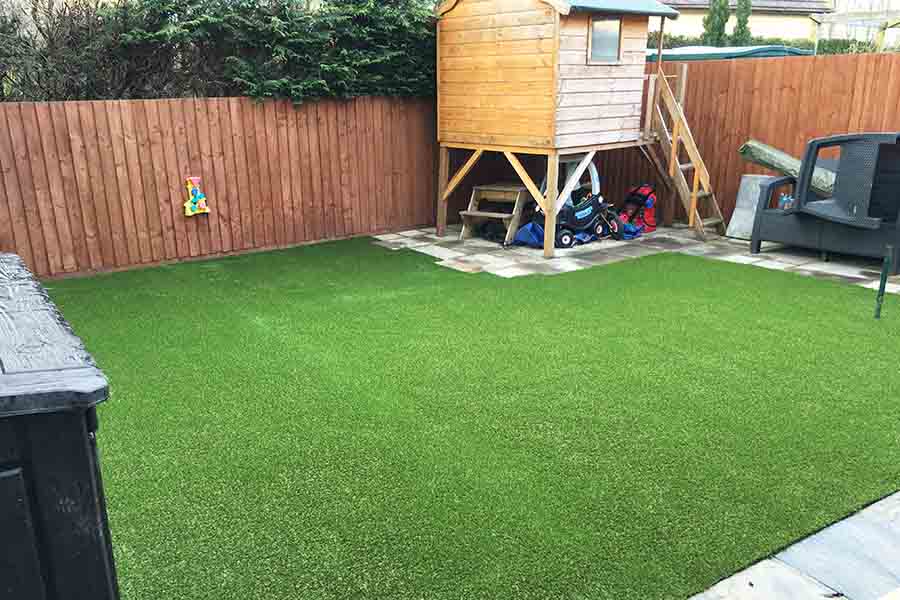 "I can honestly say we have never used a garden as much as we have since having our fake grass" - Kellie Watkins

Our new child and pet friendly back garden complete with fake turf that looks great all year round I can honestly say we have never used a garden as much as we have since having our fake grass. Our son has been out there almost every day – even in the rain. He can ride his bike without flattening or scuffing it, we haven't had to move all his toys off the lawn so they don't block the sun, and it's been an absolute godsend in the recent nice weather, as we've been able to leave the paddling pool out all the time without worrying about the grass underneath dying. And, as he gets older we won't have any worries about the equipment he has or the toys he plays with – whether a swing, a slide or a trampoline, as it won't scuff or ruin the lawn. It's so brilliantly hardwearing.
Not one cat has used the fake grass as a toilet, there's no mud (so no muddy paw prints), there's nothing for them to dig and no worms for them to bring in! The lawnmower and strimmer have gone, which brought the added bonus of freeing up room in the shed. And it is just so effortlessly stunning and looks so fantastically real.
Everyone compliments us on it and several friends have replaced their turf with artificial grass after seeing how fabulous ours looks. I really cannot recommend artificial grass from AWBS highly enough – it was the best decision we ever made, I just wish we'd done it years ago!
Author - Kellie Watkins
22nd July 2016